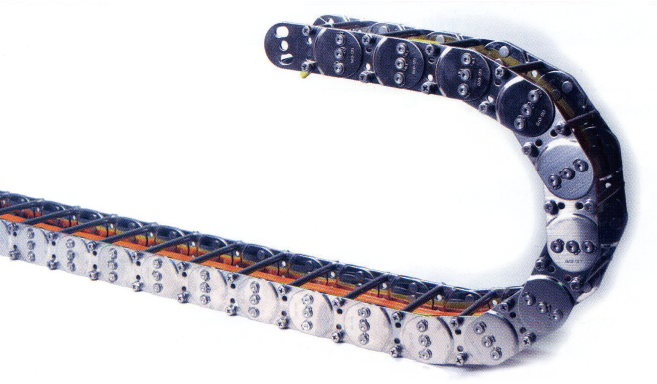 Application
This product can be applied to all kinds of machines such as steel making, steel making facilities, machine tools, transporting machine, automobile producing facilities, industrial plants, cold rolling, rolling mill facilities, etc.
Properties
Operation speed : less than 60 m/min
Cable and hose diameter : less than 90%
Operating temperature : -25~200˚C
Sliding friction : 0.4(when no lubrication)
basic color : White galvanized plating
materials : SS400, Aluminium(holds SUS stock)
Features
Easy to disassemble and install the Cables and Hoses, partitions can be adjusted freely.
Holes on the supporter can be machined by order and cables & hoses can be supported more reliably.
Various products can be manufactured by order based on 5 kinds of basic models.
Additional Cables and Hoses can be installed easily.
Operation
KS Type is used for various applications and aluminum is used for the supporters to increase the durability, and the plate can be changed to stainless steel if the product needs to be used in rusty environment.
Holes on the supporter will be manufactured in accordance with the requirements of cable and hose standard.
KS-070
Ordering method Cablechain -Type : KS-070 / Radius : 75 / Length : 2m / Q'ty : 2Set
Layout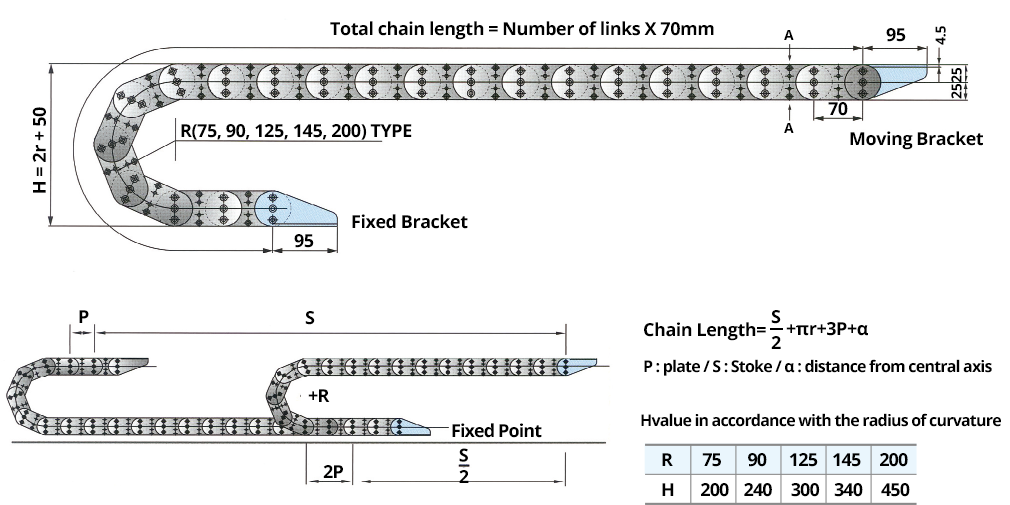 Chain Guide / A-A Cross Section

End Bracket

Specification
Type
Pitch
Cross Section
Bending Radius
D. Max. Cable / Hose
Inner Width / Height
Outside Width / Height
KS-070
70
B(60~300) / 50
B+19.5 / 50
R(75, 90, 125, 145, 200)
Ø27