Application
This product can be used for the long distance equipment such as machine tools, transportation equipment, automobile production facility, industrial plant, automatic welder, industrial robots, etc.
Properties
Operation speed : less than 120 m/min
Cable and hose diameter : less than 90%
Operating temperature : -25~120˚C
Sliding friction : 0.4(when no lubrication)
basic color : Black(this can be changed by order)
materials : Engineering Plastics
Features
Constructed of Engineering Plastics, which make the product lightweight and accomplished smooth movement.
Various widths can be materialized using support bar and easy to disassemble & assemble which makes it easy to disconnect and install the product, and also the partition can be adjusted freely.
Suitable for the machine tools and high speed long distance equipment
We have more than 400 of various products.
Lubrication free bearing wheels are attached on the Link Plate for the long distance driving.
Operation
GSSP-RHD Type is designed and manufactured with high strength Engineering Plastics, which is light weight, low noise and easy to handle.
Plastic is used for the supporting part of CableVeyor which minimizes the weight and suitable for the long distance application.
KSP-0400RHD
Longer than 300m of distance

Ordering method Cablechain -Type : KSP-0400RHD / Radius : 150 / Length : 2m / Q'ty : 2Set
Layout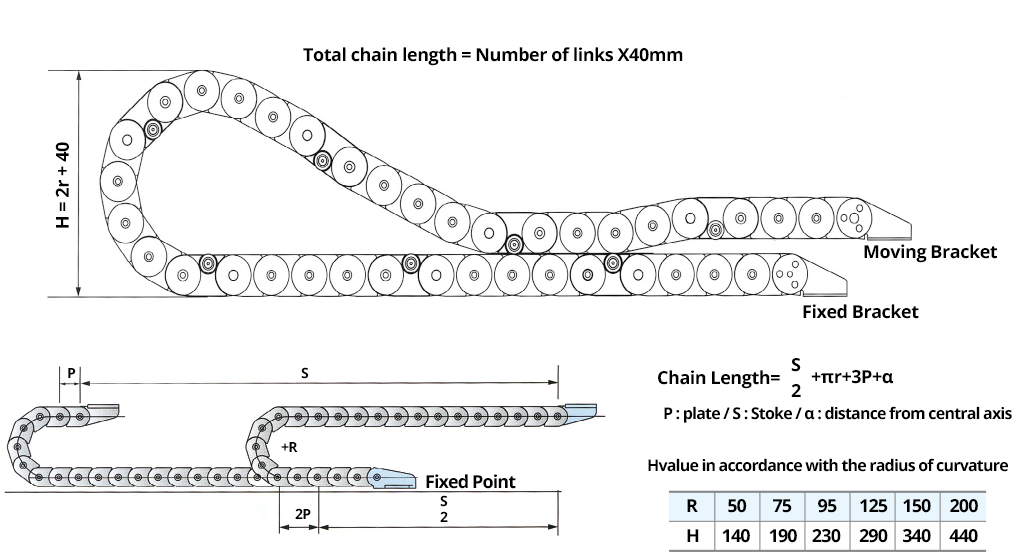 Chain Guide / A-A Cross Section

End Bracket

Specification
Type
Pitch
Cross Section
Bending Radius
D. Max. Cable / Hose
Inner Width / Height
Outside Width / Height
KSP-0400RHD
40
B(58~130) / 29
B+28 / 40
R(50, 75, 100, 125, 150)
Ø26
KSP-0625RHD
Longer than 400m of distance

Ordering method Cablechain -Type : KSP-0625RHD / Radius : 150 / Length : 2m / Q'ty : 2Set
Layout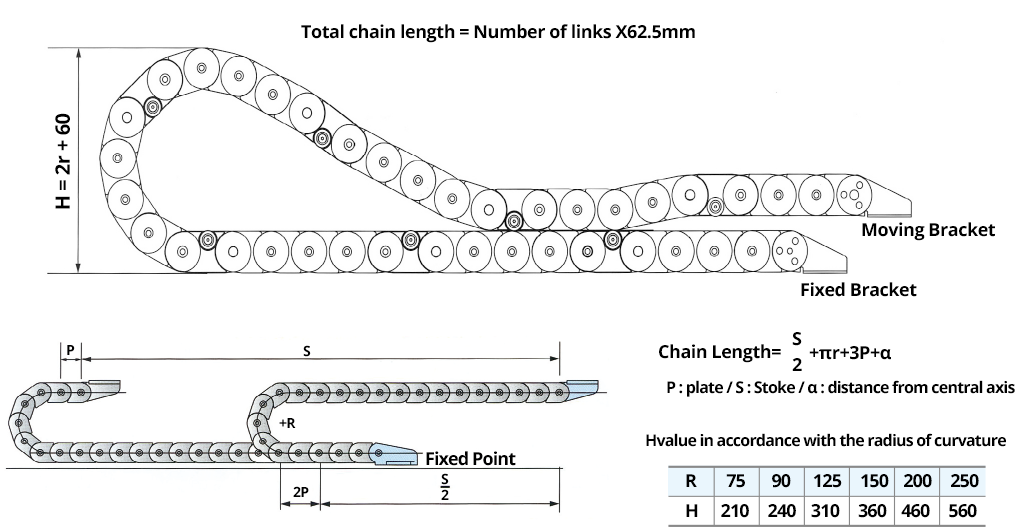 Chain Guide / A-A Cross Section

End Bracket

Specification
Type
Pitch
Cross Section
Bending Radius
D. Max. Cable / Hose
Inner Width / Height
Outside Width / Height
KSP-0625RHD
62.5
B(65~390) / 41
B+36 / 60
R(75, 90, 125, 150, 200)
Ø37
KSP-0900RHD
Longer than 900m of distance

Ordering method Cablechain -Type : KSP-0900RHD / Radius : 250 / Length : 2m / Q'ty : 2Set
Layout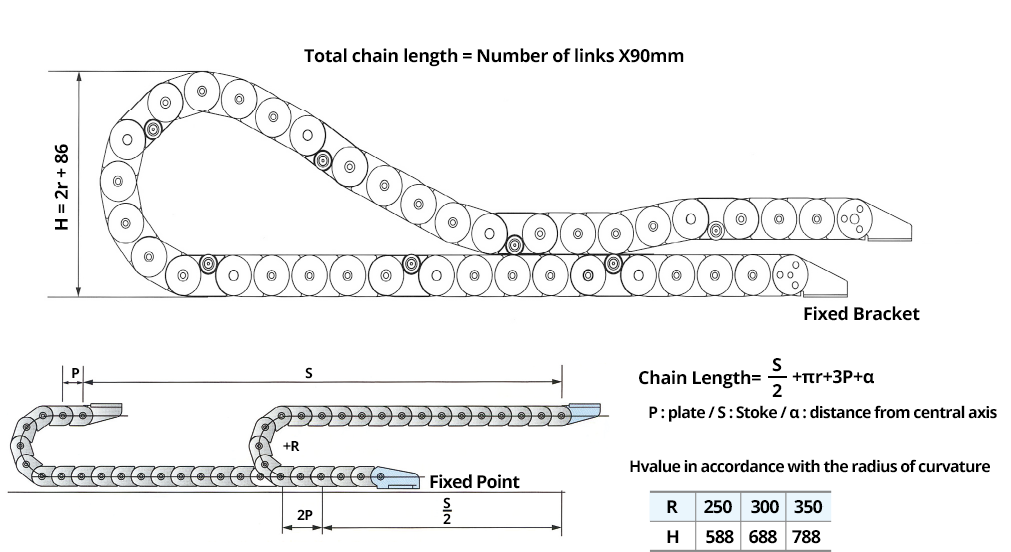 Chain Guide / A-A Cross Section

End Bracket

Specification
Type
Pitch
Cross Section
Bending Radius
D. Max. Cable / Hose
Inner Width / Height
Outside Width / Height
KSP-0900RHD
90
B(75~425) / 59
B+47 / 86
R(250, 300, 350)
Ø52
KSP-1100RHD
Longer than 800m of distance

Ordering method Cablechain -Type : KSP-1100RHD / Radius : 300 / Length : 2m / Q'ty : 2Set
Layout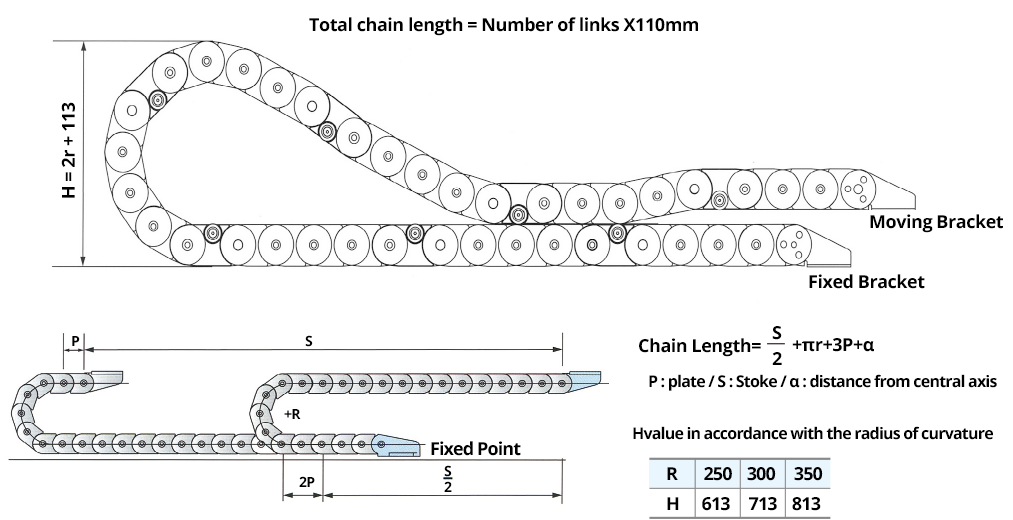 Chain Guide / A-A Cross Section

End Bracket

Specification
Type
Pitch
Cross Section
Bending Radius
D. Max. Cable / Hose
Inner Width / Height
Outside Width / Height
KSP-1100RHD
110
B(75~425) / 86
B+54 / 112
R(250, 300, 350)
Ø78
KSP-1200RHD
Longer than 800m of distance

Ordering method Cablechain -Type : KSP-1200RHD / Radius : 250 / Length : 2m / Q'ty : 2Set
Layout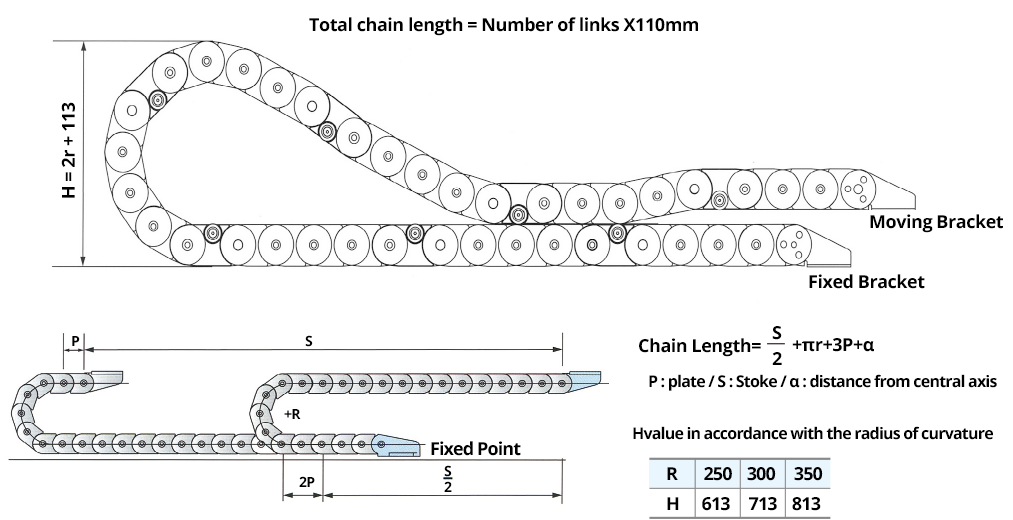 Chain Guide / A-A Cross Section

End Bracket

Specification
Type
Pitch
Cross Section
Bending Radius
D. Max. Cable / Hose
Inner Width / Height
Outside Width / Height
KSP-1200RHD
120
B(75~425) / 72
B+54 / 99
R(250, 300, 350)
Ø65